THE TEAM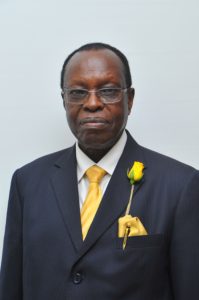 Amb. Canon Francis Butagira LLM Harvard,Senior Advocate, Butagira & Co. Advocates Mbarara

Ambassador Canon Francis Butagira holds an LL.M from Harvard Law School, USA, and a Bachelors Degree in Law (upper second)  from University of Dar es Salaam in Tanzania.
Ambassador Butagira has been an Advocate of the High Court since 1968, and successfully served in many areas of the Judiciary in Uganda.
He was head of the Law Department at the Law Development Centre in 1969 and 1970, Lecturer at the Nsamizi Law School in 1968, he served as State Attorney for the Ugandan Ministry of Justice in 1967,and was a Chief Magistrate from 1973. From 1974-1978  he achieved the high Honor of serving as  High Court Judge later he was selected to serve as a member of the National Consultative Council from 1979 to 1980. In 1980 Ambassador Butagira became House Speaker of Ugandan Parliament,  during his term, he served as President of the Joint Assembly of the European Economic Community and the African, Caribbean and Pacific Group of States (EEC/ACP).

He later became full time Advocate with distinguished Senior Partner Mr. Kirenga, now deceased, he was Chairman of the Legal and Security Affairs Committee in the National Assembly of Uganda from 1989 to 1996, he later served as an Ambassador in Africa, Europe and at the UN, as Uganda's Permanent Representative.

Butagira has traveled widely and has to  been to over 120 countries in the world, Awarded Gold Medal in 2000 as the 'Best Ambassador for attracting investments to Uganda',  Awarded Medal in 2012 by Parliament of Uganda 'For distinguished service as Speaker of Parliament 1980 to 1985', and obtained a Meritious award 'For excellent service as Legal Advisor to Ankole Diocese 1987 to 2008'

–  Currently also visiting Professor of Law, Bishop Stuart University  Mbarara
Mary Nyamwija LL.B  (Hons) Makerere University.

Post Graduate Diploma in Legal Practice  LDC, Advocate Certificate in Computer applications.

Experienced in Document Drafting and Court Representation.

JennisterKyampaire – LLB  Mukono; Post graduate Diploma LDC, Advocate, computer literate, Expert in Litigations, land  Transactions including conveyacing, mortgages,etc. Mediation.
Consultants
Junior Partner,
Penlope Butagira Ssempebwa,
LL.B (Hons) MU,  DLL-LDC
Prof.  Dr. Schmidt
International Legal Expert – Mediator, insolvency specialist, Business  transactions etc.
Halle, Germany
Cliff Butagira
Cliff Holds a Bsc Computer science from Sheffield University UK, and an Advanced diploma in Systems Analysis and design from West London college UK. He is a member of the Association of Computer Professionals (ACP) UK. He has 17 years experience in Information Systems and over 15 years in Marketing and Brand Development
He worked as a Systems Analyst Centrica Group (British Gas PLC) South London for 3 years during which he worked with the team on the development and testing of one of the largest billing systems in the world (TGB- Tariff Gas Billing).
Cliff worked with Crane Bank (Uganda) on an aggressive campaign to introduce VISA in the market with the first ever strategy to have all the bank customers using VISA cards; marketing ,design and merchant acquisition for VISA. Worked with ClaydonHeeley International (Battersea UK) in marketing and developing of world leading brand names. In Uganda, He has developed brands from inception to being leading brands in the market in the telecom, banking and insurance Industry.
Cliff is Currently the Regional Sales Manager (East Africa and South Sudan)  forMuehlbauer AG in charge of Government Projects . Muehlbauer AG is a German Security Document Printing company with a sizable global market share in this industry.  . He has acquired government contracts with  values of  80million Euros since joining in 2010 to date. He has during this time acquired skills in International Contract negotiation and Project Management .His business acumen has seen him build several businesses in the fields of IT, Entertainment and Advertising.
Judith Butagira Temu
Judith has over 10 years experience in the international development field, overseeing projects of over 1 million USD, she has experience in Project Management, Sales, Marketing and has worked in Tanzania, Uganda and Canada, Judith is presently working as a consultant in international business, linking private equity finance to viable ventures in the East African region, in the areas of telecommunication, power generation and value addition.